Benny Ramos
is a bassist / guitarist / keyboardist / producer in the greater Chicago area. He is recognized in the credits of at least 70 projects on CD. Within their musical styles are: R & B, funk, jazz, rock and hip hop.
Bassist / guitarist / keyboardist / producer
History
He has been involved with artists such as Israel Houghton and New Breed, Grammy Award winner / producer Aaron Lindsay, drummer Teddy Campbell, Cornell Thigpen, Michael Manson, and Bill Dickens.
Currently Benny is the bassist for the band Whitecross . He joined it in 2000 for the comeback concert at Cornerstone Festival this year when they reformed their "classic band" with Scott Wenzel and Rex Carroll. Since then, he has performed in over ten countries across Europe, North America and Central America. In addition, Benny is also a musician in The Rex Carroll Band, The Royal Guard and King James which he joined in 2012.
In 2010, Benny also participated in a tribute album titled Mister Bolin's Late Night Revival, a compilation of 17 previously unreleased tracks written by guitar legend Tommy Bolin prior to his death in 1976.
The CD includes other artists such as HiFi Superstar, Doogie White , Eric Martin , Troy Luccketta, Jeff Pilson , Randy Jackson , Rachel Barton, Derek St.Holmes, Kimberley Dahme, and The 77's. A percentage of the proceeds from this project will benefit the Jackson Recovery Centers.
As of 2012, Benny Ramos has performed/recorded/toured with:
Aaron Lindsay (Three-Time Grammy Award Winner, Songwriter, Musician)
Billy "Buddha" Dickens
CONCEPT
Cornell Thigpen (Mary J. Blige, Chaka Khan, Babyface)
Gary Oliver (Integrity)
Israel Houghton and New Breed (Sony Integrity)
J. Scott and Higher Groove
Jacen Rebourne
JD Blair (Shania Twain, Victor Wooten)
Juan Carlos Alvarado
Julio Melgar
The Kal Bergendahl Project
Keoni (Word Records)
King James (Current Band Member)
Lil Rodney Jones (Myron Butler)
Michael Manson (Goerge Duke, Larry Carlton)
Oz Fox (Stryper)
The Rex Carroll Sessions
Ron Kenoly (Integrity)
The Royal Guard
Tamela Mann (Meet the Browns TV, Tyler Perry)
Tavo Barcenas
Teddy Campbell (Stevie Wonder, Herbie Hancock)
Terrance Palmer (Tim Bowman, Fred Hammond)
Tony Russell (Jay Z)
Whitecross (Current Band Member)
"JESUS my Lord and Savior!!! Dad and Mom"
Music Groups/Artist Influences
Steely Dan, Stevie Wonder, Jill Scott, Maxwell, Frank Mccomb, Fred Hammond, Israel and New Breed, Jonathan Butler, Alejandro Sanz, Sade, Prince, The Jackson 5, Donny Hathaway, Marvin Gaye, Tommy Sims, Rahsaan Patterson, The Brand New Heavies, Soulive, Corrine Bailey Rae, Diana Krall, Donald Fagen, Genesis, EWF, Joss Stone, Johnny Lang, Michael McDonald, Paul Mccartney, Sting, Rush, The Police, Tania Maria, Santana. Peter Gabriel, Remy Shand, Koinonia,RH Factor, Sheila E., Vince Guaraldi Trio, Toto 

Steve Lukather, George Benson, Berili Legrane, Dominic Di Piazza, Marcus Miller, David Sanborn, Mike Phillips, Michael Ciro, Jonathan Dubose, Tim Stewart, Tuck Andress, Vinnie Colaiuta, Chick Corea, Frank Gambale, Victor Wooten, Dennis Chambers, Steve Vai, Joe Satriani, John Mayer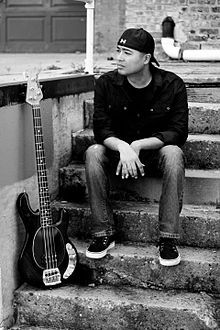 Spanish Wiki
 Usuario:Benny Ramos
Contenido [ocultar]
1 Benny Ramos
2 Historia
3 Referencias
4 Enlaces externos
[editar]Benny Ramos
Benny Ramos es un bajista/guitarrista/tecladista/productor de la mayor área de Chicago. Él está reconocido en los créditos de al menos 70 proyectos en CD. Dentro de sus estilos musicales están: R & B, funk, jazz, rock y hip hop. ..1
Bajista/Guitarrista/Tecladista/Productor
[editar]Historia
Ha participado con artistas como Israel Houghton y New Breed, ganador del Premio Grammy / Productor Aaron Lindsay, el baterista Teddy Campbell, Cornell Thigpen, Michael Manson, Bill Dickens
Actualmente es bajista de la banda Whitecross. Se unió a ella en el año 2000. Fue para el concierto de reaparición en el Festival de Cornerstone en este año cuando se reformaron sus "clásicos" con Scott Wenzel y Rex Carroll. Desde ese entonces, ha actuado en más de 10 países de toda Europa, América del Norte y Centroamérica. Además, también pertenece y es músico en The Rex Carrol Band y The Royal Guard.
En 2010, Benny también participó en un álbum tributo titulado Mister Bolin's Late Night Revival, una compilación de 17 temas inéditos escritos por el legendario guitarrista Tommy Bolin antes de su muerte en 1976. El CD incluye otros artistas como HiFi Superstar, Doogie White, Eric Martin, Troy Luccketta, Jeff Pilson, Randy Jackson, Rachel Barton, Derek St.Holmes, Kimberley Dahme y The 77's. Un porcentaje de las ganancias de este proyecto beneficiará a los Centros de Recuperación Jackson.
Artistas con los que ha trabajado:
Israel Houghton and New Breed(Sony Integrity)
Aaron Lindsay(3X Grammy award songwriter/musican)
Teddy Campbell(Stevie Wonder, Herbie Hancock)
Cornell Thigpen(Mary J. Blige, Chaka Khan, Babyface)
Michael Manson(Goerge Duke,Larry Carlton)
Tony Russell(Jay Z)
Billy "Buddha" Dickens
JD Blair(Shania Twain, Victor Wooten)
Tamela Mann(Meet the Browns TV, Tyler Perry)
Terrance Palmer(Tim Bowman,Fred Hammond)
Lil Rodney Jones(Myron Butler)
Ron Kenoly(Integrtiy)
Gary Oliver(Integrity)
WHITECROSS
The Rex Carroll Sessions
Oz Fox(Stryper)
JULIO MELGAR
Juan Carlos Alvarado
Tavo Barcenas
CONCEPT
Keoni(Word Records)
The Royal Guard
The Kal Bergendahl Project
J. Scott and Higher Groove
Jacen Rebourne
[editar]Referencias
↑ Añade referencias
[editar]Enlaces externos
[1]
[2]